---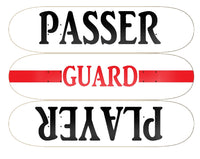 Introducing our stunning Skateboard Wall Art featuring the Guard Player Passer design. This piece is a must-have for any jiu-jitsu practitioner or fan, as it captures the essence of this dynamic and exciting martial art.
Crafted with precision and care, this Skateboard Wall Art is made from high-quality materials, ensuring durability and longevity. The Guard Player Passer design depicts two jiu-jitsu fighters in the heat of battle, showcasing the technique and skill required to succeed in this sport.
Hang it up in your training room, office, or any space where you want to showcase your love for jiu-jitsu. This Skateboard Wall Art is the perfect way to add a touch of excitement and inspiration to your space.
Whether you're a Guard Player or a Guard Passer this Skateboard Wall Art is a great way to stay motivated and inspired as you work towards mastering the art of jiu-jitsu. The Guard Player Passer design serves as a reminder of the dynamic and exciting nature of this martial art, and the passion and dedication it requires.
So why wait? Add this amazing Skateboard Wall Art to your collection today and show your love for jiu-jitsu in a fun and exciting way. Whether you're a fan or a practitioner, this piece is sure to inspire and motivate you on your jiu-jitsu journey.



Made to order in USA!  FREE Shipping!
All our decks are made out of Canadian Maple, here in the USA.  
 

| | |
| --- | --- |
| Deck Length | 32.25" |
| Wheelbase | 14.25" |
| Concave | Medium Concave |
| Construction | 7 ply Made In USA Cold Pressed Canadian Hard Rock Maple |
The delivery estimate is 45 workdays.